---
Drilling Down on a Win-Win Collaboration
Mississippi Mineral Resources Institute assists Profile Products in mining, gathering data
OXFORD, Miss. – A joint research drilling project between the Mississippi Mineral Resources Institute at the University of Mississippi and a northeast Mississippi mining company is producing benefits for both partners.
MMRI and Profile Products in Blue Mountain are in the middle of the ongoing project, which began in May. Profile Products mines the clays of the Porters Creek Formation in Tippah County and produces products used to construct and maintain athletics fields across the country.
Researchers and students at MMRI and the UM Department of Geology and Geological Engineering are drilling a series of test holes on property leased by the company.
"The project is an ideal opportunity for both Profile Products and the University of Mississippi to collect important research data," said Greg Easson, MMRI director and professor of geology and geological engineering.
"The UM research team was provided access to an ideal site to conduct a drilling campaign that can be used to validate geophysical methods for subsurface characterization. In addition, the team gets samples of the clay for a geological analysis of its character and origin.
"Meanwhile, Profile Products acquires the data they need to determine the amount of clay reserves on the property and samples for testing in their in-house lab to maintain consistency in the products they produce."
The team is using a drill rig purchased with funds provided by the Mississippi Legislature through a grant program from the Mississippi Board of Licensure for Professional Engineers and Surveyors. During the drilling process, data are collected from the layers of clay being mined and continue through the different types of soil underneath the earth's surface.
Subsurface samples collected are divided in the field, with half of them provided to Profile Products for testing in its lab to see if the material meets its specifications.
The other half of the samples for each depth will be retained and analyzed by the UM research team to help understand the geological history and origin of this geological formation. Findings will form the core of an Ole Miss graduate student's thesis.
As part of the research team is drilling, other researchers and students are collecting geophysical data along the same path. The methods for collecting geophysical data include ground-penetrating radar, electrical resistivity and passive seismic (the detection of natural, low-frequency earth movements).
Data collected using these methods will be compared to the drilling data to determine the accuracy of the geophysical methods.
"Profile Products has agreed to provide the UM team access to the site so that we can process the data, reconfigure the systems and collect another set of data," Easson said. "This research will provide the UM research team with validation of the level of accuracy of the geophysical data to show how these methods can be used in areas where drilling is not allowed, such as levees on the Mississippi River."
The partnership between the company and MMRI is mutually beneficial, said Chas Goff, plant manager at Profile Products.
"The reserve data will allow Profile Products to expand our operations," Goff said. "The students are learning how to drill safely and how to sample and work with clients."
The drilling and reserve estimate for the project will be completed by the end of July, with analysis and additional geophysical data collection continuing into September.
---
In Memoriam: JULIUS M. RIDGEWAY (1933 – 2021)
It is with deep regret and profound sadness that we inform you that Julius Ridgeway passed away this past Sunday, May 30. A great friend of our department who had a distinguished career and gave back in many ways to our program, including serving on many graduate student committees. He will be sincerely missed.
https://www.legacy.com/obituaries/clarionledger/obituary.aspx?n=julius-mosal-ridgway&pid=198857031&fhid=11932
---
Employment projections from the U.S. Bureau of Labor Statistics (BLS) indicate an overall 4.9% increase in geoscience jobs between 2019 and 2029, from 460,242 jobs in 2019 to 482,726 jobs in 2029. For comparison, the projected growth of the U.S. workforce over the same timeframe is expected to be 3.7%. While growth rates for individual geoscience occupations range between 0% and 8.4% for all but geoscience engineering managers (-1%), those occupations projected to gain the greatest number of jobs are environmental scientists (7,100 jobs), environmental science technicians (2,900 jobs), and environmental engineers (1,800 jobs).
---
Who Needs a Geoscientist?
Enjoy this very interesting article at:  Who Needs Geoscientists?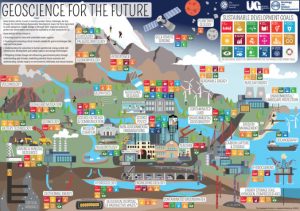 ---
Congratulation to all the geologists and geological engineers of the 2020 class!
Check out the video with cameo appearances from all of our 2020 graduates.
---
Coronavirus, COVID-19, uncharted territory, social distancing, flatten the curve, course conversion, Zoom meetings. These words are now forever ingrained in our vocabulary. Our Engineering community has been tremendous during these trying times….
April 2020
---
The Mississippi Mineral Resources Institute (MMRI) and Department of Geology and Geological Engineering at Ole Miss are undertaking a geologic mapping and drilling project in Charleston, Mississippi – that'll help identify economic resources and contribute to scientific research in the region.
February 2020
---
Four Ole Miss students attended the national SWE conference in California last month – and three walked away with job offers. And, SWE events on campus give students the opportunity to hear from alumnae what it's like to transition from college to the workplace. Read more…
December 2019
---
Lance Yarbrough, assistant professor of geology and geological engineering at Ole Miss, spent much of his summer 600 feet below the Hudson River. He was working on a project to build a 2.5-mile-long bypass tunnel for the Delaware Aqueduct, which provides about half of New York City's water. Read more…
November 2019
---
Assistant Professor of Geological Engineering Leads Dinosaur Track Preservation Project.
---
Helpful info
Ole Miss Engineer – our annual round-up of school and department highlights