---
Employment projections from the U.S. Bureau of Labor Statistics (BLS) indicate an overall 4.9% increase in geoscience jobs between 2019 and 2029, from 460,242 jobs in 2019 to 482,726 jobs in 2029. For comparison, the projected growth of the U.S. workforce over the same timeframe is expected to be 3.7%. While growth rates for individual geoscience occupations range between 0% and 8.4% for all but geoscience engineering managers (-1%), those occupations projected to gain the greatest number of jobs are environmental scientists (7,100 jobs), environmental science technicians (2,900 jobs), and environmental engineers (1,800 jobs).
---
Who Needs a Geoscientist?
Enjoy this very interesting article at:  Who Needs Geoscientists?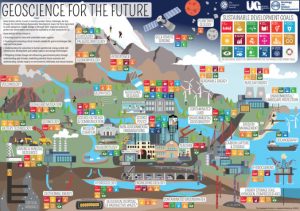 ---
Congratulation to all the geologists and geological engineers of the 2020 class!
Check out the video with cameo appearances from all of our 2020 graduates.
---
Coronavirus, COVID-19, uncharted territory, social distancing, flatten the curve, course conversion, Zoom meetings. These words are now forever ingrained in our vocabulary. Our Engineering community has been tremendous during these trying times….
April 2020
---
The Mississippi Mineral Resources Institute (MMRI) and Department of Geology and Geological Engineering at Ole Miss are undertaking a geologic mapping and drilling project in Charleston, Mississippi – that'll help identify economic resources and contribute to scientific research in the region.
February 2020
---
Four Ole Miss students attended the national SWE conference in California last month – and three walked away with job offers. And, SWE events on campus give students the opportunity to hear from alumnae what it's like to transition from college to the workplace. Read more…
December 2019
---
Lance Yarbrough, assistant professor of geology and geological engineering at Ole Miss, spent much of his summer 600 feet below the Hudson River. He was working on a project to build a 2.5-mile-long bypass tunnel for the Delaware Aqueduct, which provides about half of New York City's water. Read more…
November 2019
---
Assistant Professor of Geological Engineering Leads Dinosaur Track Preservation Project.
---
Helpful info
Ole Miss Engineer – our annual round-up of school and department highlights