---
UM Receives Top Honors as a 'Great College to Work For'
University makes prestigious list for the 14th year
FacebookTwitterLinkedInEmailCopy LinkSMSPrintFriendly
OXFORD, Miss. – The University of Mississippi is once again one of the nation's "Great Colleges to Work For," according to The Chronicle of Higher Education.
This is the 14th year that the university has been named a Great College to Work For. Ole Miss joins 42 other Honor Roll schools recognized this year as standouts in their size categories.
"This outstanding distinction of being a great place to work is an incredibly high honor especially our recognition on the Honor Roll and across all 10 categories," Chancellor Glenn Boyce said. "It really speaks to the culture of caring and collaboration that permeates our campus community.
"Our tremendous people deeply believe in and support our mission, which makes this university a truly special place to live, work and learn."
The results were released Monday (Sept. 11) in a special insert of The Chronicle. Of the 194 institutions participating in 2023, 72 were recognized as a Great College to Work For.
For the first time, the university earned honors in all 10 recognition categories. The categories are:
Job Satisfaction and Support
Compensation and Benefits
Professional Development
Mission and Pride
Supervisor/Department Chair Effectiveness
Confidence in Senior Leadership
Faculty and Staff Well-being
Shared Governance
Faculty Experience
Diversity, Inclusion and Belonging
Great Colleges to Work For is one of the largest and most respected workplace recognition programs in the country.
"Over the past 14 years, it has been rewarding to watch UM continue to gain momentum with the GCTWF recognition, with this year hitting the peak of honor recognition in all 10 categories," said Andrea Jekabsons, chief human resources officer. "Specifically, the HR team contributes to the success in the areas of compensation and benefits, professional development and faculty-staff well-being."
Jekabsons said she strives "to lead by example" by encouraging campus supervisors and managers to provide the tools, resources, coaching and time off for employees to experience balance and an enriched work-home environment.
"Offering a supportive and encouraging environment contributes to the employees' well-being and, in turn, provides the benefit of an exceptional experience for our students," she said. "There is no doubt that we are a great place to work because of our people, and this is further evidence of that."
ModernThink, a strategic human capital consulting firm, administered the survey and analyzed the results. Results are based on a two-part assessment process: an institution questionnaire that captured employment data and workplace policies from each institution, and a survey administered to faculty, administrators and professional support staff.
Employee feedback is the primary factor in deciding whether an institution receives recognition.
Richard K. Boyer, principal and managing partner at ModernThink, said that this year's Honor Roll designees outperformed the applicant pool by an average of 38 percentage points on the survey statement, "Senior leadership shows a genuine interest in the well-being of faculty, administration and staff."
That 38-percentage-point difference was mirrored on the statement, "Senior leadership provides a clear direction for this institution's future."
"Once again, leaders at the institutions recognized in this year's Great Colleges to Work For program have demonstrated their collective commitment to the stewardship of their institutions' cultures," Boyer said. "Their commitment to the well-being of their faculty and staff is second to none."
For more information and to view all the survey results, visit the Great Colleges Program website.
---
Geology student awarded national geophysics scholarship
---
Geohazards Expert to Lead Geological Engineering Department
Thomas Oommen brings more than 10 years of experience in research and academia
OXFORD, Miss. – Thomas Oommen, an expert in geohazard risk assessment, is slated to join the University of Mississippi School of Engineering as chair of its Department of Geology and Geological Engineering.
"I believe in the immense potential of the department, and I am committed to creating a positive and supportive environment for all the members," said Oommen, who is coming to Ole Miss after spending more than a decade at Michigan Technological University.
"As the department chair, I will prioritize academic excellence, promote scholarly research and foster a culture of collaboration and innovation."
At Michigan Tech, Oommen is a professor in the Department of Geological and Mining Engineering and Sciences and the director of its computational science and engineering doctoral program.
His research interests include geohazard risk assessment and critical infrastructure system monitoring. He has adopted an interdisciplinary research approach that integrates geological engineering concepts with tools from two main areas: remote sensing for obtaining data and artificial intelligence and machine learning for data processing and modeling.
He has received more than $10.5 million in research and travel grants for his work. One of his recent projects, funded by the National Science Foundation, is designed to help develop tools that rural counties can use to enhance flooding and coastal disaster resilience.
He also has received a grant from the Federal Railroad Administration to create an automated decision support system to monitor ground hazard risks such as landslides.
His ambitions extend to the geology and geological engineering department.
"I aim to enhance the department's reputation and visibility by cultivating research partnerships with other institutions, organizations and industries," he said. "I am eager to showcase the accomplishments of the department's members to a broader audience and raise awareness of the department's contributions to the field."
Oommen has led Michigan Tech's computational science and engineering doctoral program since 2019. Since, he has significantly grown the program – leveraging the available resources and attracting new faculty to participate in the interdisciplinary program. He also has mentored several students in pursuing prestigious fellowships.
"To drive a successful graduate program, it is important to have funded research projects and it is equally important to mentor students to apply for competitive fellowship programs like the NSF graduate research fellowship, NASA's FINESST program, the Department of Defense's SMART fellowship and more," he said.
Oommen received his doctorate in civil and environmental engineering from Tufts University with an emphasis in geotechnical engineering. Before that, he obtained a master's in geological engineering department of the University of Alaska at Fairbanks and his bachelor's in engineering from Bangalore University.
He joins the School of Engineering team in August. Gregg Davidson, who has been the department chair since 2013, will return to full-time faculty status.
---
Drilling Down on a Win-Win Collaboration
Mississippi Mineral Resources Institute assists Profile Products in mining, gathering data
OXFORD, Miss. – A joint research drilling project between the Mississippi Mineral Resources Institute at the University of Mississippi and a northeast Mississippi mining company is producing benefits for both partners.
MMRI and Profile Products in Blue Mountain are in the middle of the ongoing project, which began in May. Profile Products mines the clays of the Porters Creek Formation in Tippah County and produces products used to construct and maintain athletics fields across the country.
Researchers and students at MMRI and the UM Department of Geology and Geological Engineering are drilling a series of test holes on property leased by the company.
"The project is an ideal opportunity for both Profile Products and the University of Mississippi to collect important research data," said Greg Easson, MMRI director and professor of geology and geological engineering.
"The UM research team was provided access to an ideal site to conduct a drilling campaign that can be used to validate geophysical methods for subsurface characterization. In addition, the team gets samples of the clay for a geological analysis of its character and origin.
"Meanwhile, Profile Products acquires the data they need to determine the amount of clay reserves on the property and samples for testing in their in-house lab to maintain consistency in the products they produce."
The team is using a drill rig purchased with funds provided by the Mississippi Legislature through a grant program from the Mississippi Board of Licensure for Professional Engineers and Surveyors. During the drilling process, data are collected from the layers of clay being mined and continue through the different types of soil underneath the earth's surface.
Subsurface samples collected are divided in the field, with half of them provided to Profile Products for testing in its lab to see if the material meets its specifications.
The other half of the samples for each depth will be retained and analyzed by the UM research team to help understand the geological history and origin of this geological formation. Findings will form the core of an Ole Miss graduate student's thesis.
As part of the research team is drilling, other researchers and students are collecting geophysical data along the same path. The methods for collecting geophysical data include ground-penetrating radar, electrical resistivity and passive seismic (the detection of natural, low-frequency earth movements).
Data collected using these methods will be compared to the drilling data to determine the accuracy of the geophysical methods.
"Profile Products has agreed to provide the UM team access to the site so that we can process the data, reconfigure the systems and collect another set of data," Easson said. "This research will provide the UM research team with validation of the level of accuracy of the geophysical data to show how these methods can be used in areas where drilling is not allowed, such as levees on the Mississippi River."
The partnership between the company and MMRI is mutually beneficial, said Chas Goff, plant manager at Profile Products.
"The reserve data will allow Profile Products to expand our operations," Goff said. "The students are learning how to drill safely and how to sample and work with clients."
The drilling and reserve estimate for the project will be completed by the end of July, with analysis and additional geophysical data collection continuing into September.
---
In Memoriam: JULIUS M. RIDGEWAY (1933 – 2021)
It is with deep regret and profound sadness that we inform you that Julius Ridgeway passed away this past Sunday, May 30. A great friend of our department who had a distinguished career and gave back in many ways to our program, including serving on many graduate student committees. He will be sincerely missed.
https://www.legacy.com/obituaries/clarionledger/obituary.aspx?n=julius-mosal-ridgway&pid=198857031&fhid=11932
---
Employment projections from the U.S. Bureau of Labor Statistics (BLS) indicate an overall 4.9% increase in geoscience jobs between 2019 and 2029, from 460,242 jobs in 2019 to 482,726 jobs in 2029. For comparison, the projected growth of the U.S. workforce over the same timeframe is expected to be 3.7%. While growth rates for individual geoscience occupations range between 0% and 8.4% for all but geoscience engineering managers (-1%), those occupations projected to gain the greatest number of jobs are environmental scientists (7,100 jobs), environmental science technicians (2,900 jobs), and environmental engineers (1,800 jobs).
---
Who Needs a Geoscientist?
Enjoy this very interesting article at:  Who Needs Geoscientists?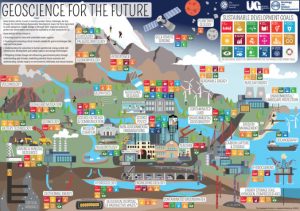 ---
Congratulation to all the geologists and geological engineers of the 2020 class!
Check out the video with cameo appearances from all of our 2020 graduates.
---
Coronavirus, COVID-19, uncharted territory, social distancing, flatten the curve, course conversion, Zoom meetings. These words are now forever ingrained in our vocabulary. Our Engineering community has been tremendous during these trying times….
April 2020
---
The Mississippi Mineral Resources Institute (MMRI) and Department of Geology and Geological Engineering at Ole Miss are undertaking a geologic mapping and drilling project in Charleston, Mississippi – that'll help identify economic resources and contribute to scientific research in the region.
February 2020
---
Four Ole Miss students attended the national SWE conference in California last month – and three walked away with job offers. And, SWE events on campus give students the opportunity to hear from alumnae what it's like to transition from college to the workplace. Read more…
December 2019
---
Lance Yarbrough, assistant professor of geology and geological engineering at Ole Miss, spent much of his summer 600 feet below the Hudson River. He was working on a project to build a 2.5-mile-long bypass tunnel for the Delaware Aqueduct, which provides about half of New York City's water. Read more…
November 2019
---
Assistant Professor of Geological Engineering Leads Dinosaur Track Preservation Project.
---
Helpful info
Ole Miss Engineer – our annual round-up of school and department highlights