Alumnus Recognized for Service to Engineering Geology Profession
Charlie Wildman receives AEG Piteau Outstanding Young Member Award
A University of Mississippi engineering alumnus is the recipient of a rare honor from the Association of Environmental and Engineering Geologists in recognition of his exceptional professional service.
John C. "Charlie" Wildman (BSGE 09) was presented the Douglas R. Piteau Outstanding Young Member Award during the association's annual meeting. Wildman is only the 31st person to be presented the award in the organization's 64-year history.
He is a geological and geotechnical engineer in the hydraulic structures group at Arcadis, North America Inc., a global design, engineering and management consulting company based in the Netherlands.
"The Piteau Award is basically the Heisman Trophy for our practice, except that the Piteau Award is not awarded every year, like the Heisman is," Wildman said. "This is my first international award. All other awards and recognitions have been either at the university or local level. It was also the first award I have received where I had to give an acceptance speech."
A Day to Remember
As outstanding as receiving the award was, Wildman said he learned about it at the end of what was already a most memorable workday.
"My line of work is predominantly water and coastal infrastructure," he said. "I was on a site visit near Limones, Panama, where we were evaluating two sites for a proposed pier that the U.S. and Panamanian governments are interested in building."
Required to take some preliminary and rudimentary bathymetric, or seafloor bottom, evaluations, Wildman's crew boarded a fishing charter, took the boat out and, on the way to the sites, let a few lines out in the water.
"I caught a handful of bonita, a big-eyed jack and an about 7-foot shark en route to the pier locations," Wildman said. "We also spotted a sea turtle that had gotten wrapped up in a buoy, so we pulled the fishing lines in and brought the sea turtle partially onboard so that we could dislodge the buoy from the turtle.
"Once we got the turtle free from the buoy, we released it back into the water, and then made it to the proposed pier locations."
Following the seafloor assessments at both sites, the team met at a dilapidated community pavilion in the village of Limones with about a dozen U.S. and Panamanian military officials, including the regional U.S. Army and U.S. Navy section chiefs and high-ranking officers in both Panama's National Border Service, known as SENAFRONT, and SENAN, roughly equivalent to the Coast Guard.
"What made this meeting unique was that with all the brass around the table, we – the engineers – were the stars of the show," Wildman said. "They traveled out to Limones to hear what we had to say. I didn't expect as the youngest and least-decorated member in the room to be the center of attention and the voice that they came to hear."
When Wildman finally made it to his hotel room in David, Panama, that night, an email message was waiting for him from Bill Godwin, AEG president.
"I met Bill at an AEG meeting in 2007, when I was a junior at Ole Miss," Wildman said. "All I could think was, 'Man! Bill Godwin. I didn't expect to hear from him today.' Then I read the email that said I had been selected to be the 31st recipient of the Piteau Award. My reaction was basically, 'Well, I'll be damned!' What a way to cap off an unforgettable day."
A Legacy of Service and Excellence
From the time he enrolled as a freshman at Ole Miss, Wildman has excelled in technical accomplishments, service to the association and service to the engineering geology profession. He received numerous awards, including the prestigious John D. Adler Engineering Fellowship, and was recognized as the Most Outstanding Senior Student in the Department of Geology and Geological Engineering in 2008.
"I was vice president and then president of the Ole Miss Club of New York City and co-founded the 2016 Rebels Ride United charity bike ride, where another Ole Miss alum and I raised about $5K for the Oxford-University United Way," Wildman said.
"We cycled from the Ole Miss at Vandy game to the Egg Bowl in Oxford. And in 2020, I contributed a chapter in the American Bar Association's The Community Resilience Handbook."
After earning his bachelor's degree, Wildman worked for Parsons Brinckerhoff in Dallas, doing geotechnical work related to highways, levees, dams, tunnels and large building foundations around Texas and in the mid-Atlantic. He then transferred to New York City to do on-site construction management of the first phase of the Second Avenue Subway project.
While in New York, Wildman gained notoriety as one of NYC's premier home brewers and soon thereafter quit engineering to brew beer professionally for a startup brewery in Queens. He moved on to brew for a production brewery in central Maryland that, at the time, was producing beer for 37 states and nine countries.
Back to the Books and Beyond
Wildman shifted his professional focus back to engineering via graduate school. However, the summer before starting graduate school at the University of New Orleans, he and a friend completed a 25-day, 2,000-mile charity bicycle ride from Cumberland, Maryland, to Telluride, Colorado, which generated about $12,000 for a New Orleans-area disabilities nonprofit.
Hired by Arcadis during his first semester of graduate school, Wildman was one of two Louisiana Coasts, Oceans, Ports and Rivers Institute scholarship recipients in 2017, and was one of five grand prize winners for UNO's inaugural Three-Minute Thesis competition in 2018.
He is a member of the American Society of Civil Engineers, the AEG and the New Orleans Geological Society. Wildman serves on ASCE's national Science, Policy, Education and Economic Decision committee within the Infrastructure Resilience Division. He received his master's degree in civil engineering from UNO in 2018 and earned postbaccalaureate recognition for specialty work in coastal engineering, coastal sciences and hazard policy studies during his graduate tenure.
Praise from a Professor
"Charlie has had a fascinating journey in his career that is an example to other young members when navigating the world of engineering geology," said Lance Yarbrough, UM associate professor of geology and geological engineering, who nominated Wildman for the Piteau Award.
"Since completing his undergraduate, Charlie has worked on a multitude of engineering geology and geotechnical projects involving flood hazards, liquefaction-induced settlement, bridge improvements, shoreline protection, tunneling, wind farms, dams, rail and other transportation infrastructure.
"During his work, he has mentored others and supported the community by sharing this knowledge through seminars, scientific publications and presentations."
While moving around the nation, Wildman continued to serve AEG as the newsletter editor for the New York-Philadelphia section and the student-to-professional liaison for the Dallas-Fort Worth chapter. He is working with Region 6 and the Lower Mississippi Valley chapter to develop more interest for the association in the New Orleans area.
Giving Credit Where Credit Is Due
Wildman acknowledged that he feels indebted to Ole Miss Engineering for giving him the foundation that led to his career achievements.
"When I started my college search, I had no interest in attending Ole Miss," he said. "But after visiting the campus and town, I quickly fell in love with the campus and town, and it quickly became my No. 1 choice for college. More importantly, it set the groundwork for practicing this line of work.
"I really pride myself on being just as good a geologist as I am an engineer and vice versa. The geological engineering curriculum at Ole Miss really helps me stand apart from my peers, as my peers generally only speak geology or only speak engineering. When you can speak both professional languages, you can really understand the interactions between in situ geology and engineered structures."
A native of Lafayette, Louisiana, Wildman lives in New Orleans. His hobbies include bicycle touring, kayak touring, snowboarding, attending bluegrass festivals and brewing.
---
UM geology alumnus Tom Varner receives grant to study arsenic in Meghna River
Tom Varner
The drinking water along the Meghna River in Bangladesh is tainted with arsenic, a toxic chemical that when ingested may lead to cancer, vascular disease and other health ailments. But one day soon, those waters could become safer to drink – thanks to the research of a University of Mississippi geology alumnus.
Thomas (Tom) Varner (BSG 19) is an environmental science and engineering Ph.D. student at the University of Texas at San Antonio. The South Bend, Indiana, native was recently awarded a Graduate Research Grant from the Geological Society of America. Varner's grant will assist the geological engineering department's existing National Science Foundation-funded research, which examines the mechanisms that control the release and sequestration of arsenic along the Meghna River in Bangladesh. "Millions of people in Bangladesh are afflicted with arsenic-contaminated drinking water derived from the groundwater," Varner said. "Surface waters have become contaminated with pathogens due to dense populations and lack of sanitation practices. With no safe alternatives for drinking water, this research will further the understanding of the processes controlling the fate and transport of arsenic, which is imperative to providing possible solutions."
Varner said that the GSA grant is confirmation that his research has a societal and academic significance outside the laboratory. "This award was an honor to receive, but it represents a promise to adequately complete the study to benefit the academic community and those who suffer from inadequate drinking water," he said.
Discovering His Passion
Varner's interest in geology was born while hiking in Spain in 2015. There he realized that his passions for science and the natural environment could be merged through the study of geology. He changed his major from pharmacy to geology when he returned to Ole Miss. "Geology is a fascinating field involving the study of some of society's most pressing issues," Varner said. "As the human population grows, there is an increased strain on our relationship with the natural environment. "Problems such as climate change, energy, mineral resources and water resources are all addressed through the study of geology. The application of the study of geology towards real-world issues provides a fulfilling line of work."
Mining His Niche
As an undergraduate, Varner's favorite engineering professors were Jennifer Gifford, assistant professor of geology and geological engineering; and Gregg Davidson, chair and professor of geology and geological engineering.
Varner and Gifford studied zircons (extremely durable heavy minerals often found as detrital grains in sedimentary rocks) to determine the Mississippi River's age and tectonic environment of origin. The project, funded by an internal UM Summer Undergraduate Research Fellowship Track 1 grant, used detrital zircon age patterns as a tracer of sediment source. "During this time, Dr. Gifford encouraged me to attend conferences to present my research and assisted in the processes of writing an internal grant to help fund the research. Both are crucial components of conducting research studies," Varner said. "I am extremely grateful for the opportunities and experience I gained by conducting undergraduate research under Dr. Gifford."
Gifford remembered Varner's zeal for their research. "Tom was very dedicated," she said. "He worked very well in the field and in the lab."
Moving toward the Mark
Other honors and awards Varner received as an Ole Miss student included Who's Who Among Students in American Universities and Colleges, and Outstanding Senior in Geology, both in 2018. He also was named Outstanding Junior in Geology the previous year. "Receiving the UM Undergraduate Summer Research Grant was monumental for my decision to continue with research," Varner said. "Writing, and receiving, grants is an invaluable skill to have as a graduate student and as a researcher. Receiving this grant award as an undergraduate provided me with instrumental writing experience and confidence to pursue a graduate degree."
Receiving the Who's Who award proved to Varner that there was merit in the extra work that he took on. "Receiving this award provided me with inspiration to pursue further education and helped develop my passion for geology, specifically the association between geology and human health," he said.
After completing the Ph.D. program, Varner plans to pursue a career involving the management and protection of water resources. "Water is required to sustain life and is a basic human right," Varner said. "I would love to be in a position where I would be able to work towards providing clean and reliable drinking water for afflicted communities."
Acknowledging His Ole Miss Engineering Experience
Varner said the education and research opportunities he received as an undergraduate in the School of Engineering at Ole Miss provided him with invaluable experience that has proved essential for his current research at the University of Texas at San Antonio.
"The foundation of knowledge that I received through the courses in the School of Engineering has provided me with the components necessary for further education and research," he said.
"I am very grateful for the opportunity to conduct research as an undergraduate while at Ole Miss. The ability to conduct research as an undergraduate set the stage for my future, allowing me to apply the knowledge from courses to help answer research questions in the field of geology."
---
From D.C. to Hawaii and Back: Geological engineering alumnus Gage Johnson consults on major, varied construction projects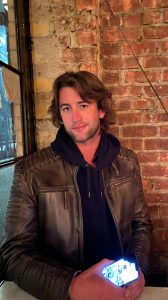 From a naval command center to the Cannon House Office Building, Gage Johnson (BSGE 17) has literally come full circle in his career path. "My current title is 'consultant,'" the Chattanooga, Tennessee, native said. "I have worked on a plethora of jobs within the past two years of working for McDonough Bolyard Peck Inc. (a construction firm headquartered in Fairfax, Virginia). No two projects are alike."
Johnson has been an Americans with Disabilities Act compliance inspector on many apartments under construction and served as construction/project manager on the installation of a new HVAC system on a middle school and an elementary school in D.C. In December 2019, he moved almost 5,000 miles away to Honolulu, Hawaii, to work as the risk and change manager for an MBP client, the Naval Facilities Engineering Systems Command Pacific. "I assisted the efforts in building a new $10 billion Marine base on Guam," Johnson said. "For seven months, I lived in Waikiki and worked on Joint Base Pearl Harbor-Hickam. While working on this project, I was able to visit Camp Blaz, Andersen Air Force Base and Naval Base Guam, located in Guam." Upon Johnson's return to D.C., he assisted with the renovation of many of the national parks being renovated under the $9.5 billion Great American Outdoors Act. He works as the project control engineer under the Architect of the Capitol, in efforts to renovate the Cannon House of Representatives Office Building.
Coming to Ole Miss
Johnson was one of three students in his high school graduating class to attend the University of Mississippi. "My reason for attending was to experience something new, as well as to attend the engineering school," he said. "I knew I wanted to go farther west and explore more of what this country has to offer, but not be too far from home. Mississippi was just far enough." From his senior year of high school, Johnson knew he wanted to go into engineering. However, he did not know which branch. "At first, I wanted to go into chemical engineering. Then I found out about the geological engineering program, and I was immediately sold," he said. Gregg Davidson, chair and professor of geology and geological engineering, said Johnson impressed him as "outgoing." "I recall Gage as one of those rare incoming freshmen with the maturity and confidence to drop by my office to personally introduce themselves," he said. "Gage had some professional and personal interests similar to my own, and took the time to let me know."
Fond Memories
Johnson vividly recalled his first day of class at the university. "It is day one, 8 a.m.," he said. "I walk into an unknown building, later to be remembered as Shoemaker Hall, with 100 unknown people. Everyone could hear the music blaring from the classroom before we even entered: 'Volcano' by Jimmy Buffett." Immediately, Johnson saw instructor Cathy Grace dancing and singing along. The image of her dancing led him to make a connection that endured throughout his entire four years at Ole Miss. "Colleen Bransford, Bryan Brick, Liz Vitale and I would always go to Cathy's office to chat during our free time," he said. "Furthermore, every year, we would sign up to be volunteers on the Geology 103 trip to Tishomingo State Park, which Cathy led."
Favorite Courses
One of Johnson's favorite courses was Petroleum Geology, a special topic class taught by Walter Guidroz. He remembered the course as "extremely absorbing" because it gave real-life examples and insider knowledge of the oil industry. "Having worked for Amoco and BP for 40-plus years, Dr. Guidroz gave real, hands-on lessons that made concepts easy to grasp," he said. "Dr. Guidroz also had the experience of being the interviewer for a copious number of positions at BP. Naturally, we had mock interviews. Not only did we get to practice interviewing for jobs, we actually received positive and constructive feedback on our resumes and on our responses to questions asked." Johnson said he also enjoyed senior classes taught by UM geology and geological engineering faculty members Robert Holt and Andrew O'Reilly. "Senior design was definitely the most rigorous course I took during my time but also one of the most enjoyable," he said. "Forming teams and designing a nuclear waste facility, U.S. Department of Energy's Waste Isolation Pilot Plant, or WIPP, which was 2,000 feet underground and about the size of a football field and contained ceilings 10-15 feet tall, was the most interesting project I had ever completed during my time at Ole Miss."
During the spring semester, the entire class boarded two charter buses and made the long haul to Carlsbad, New Mexico, where they camped out at a KOA for a week. "During our time in the desert, we performed our own preliminary work (i.e., topographical mapping, WIPP site tour, etc.)," Johnson said. "We were actually able to see, to walk on, to kick the dirt of the exact place where our facility was going to be built – theoretically, of course. That was the most significant and memorable week of my four years."
Sharing the Knowledge
Of all the activities and organizations in which Johnson was involved, his favorite was being a teaching assistant during his junior and senior years. He was a TA for the geographic information system, geomorphology and environmental geology labs. "I thoroughly enjoyed being a TA because I was able to meet and build relationships with students who (became) my friends, even to this day," Johnson said. "Also, assisting with these labs reinforced my knowledge, and I was able to apply that knowledge to more advanced classes. Being a TA also gave me the responsibility and luxury of having a job and not having to leave campus, or even the building."
Giving Credit Where It's Due
Johnson praises the Ole Miss School of Engineering and its staff for having been extremely beneficial to him in his career path. "(They did this) by providing real-life, hands-on experiences that go beyond textbooks, by structuring the advanced courses as project-based instead, by teaching the more difficult/tedious way of learning," Johnson said.
Johnson is especially complimentary of the geological engineering department community. "I did not just see these people in class or when we studied," he said. "We were more than just 'classmates.' Many students outside the GE department often referred to us as a 'clique' or, in its loosest term, a 'cult.' We went to football games together. We traveled together. We went to the Square together. Some were roommates together. We are still friends with each other. And some are actually marrying each other."
---

Biosketch:
August 2016 – Bachelor of Science in Geological Engineering
Underground Storage Tank Technical Project Manager – Mississippi Department of Environmental Quality, Jackson, MS
Cool stuff I get to do:
Recently, I visited a gas station that had soil and groundwater contamination on its property. After two in-depth assessments, contamination was discovered across the street from the gas station. As a result, a Dual Phase Vacuum Extraction (DPVE) system, recovery vaults, and piping needed to be installed to remediate the site. The main remedial objectives are free product removal, soil vapor extraction, and contaminated groundwater removal. Instead of digging a trench across Main Street, to place the underground piping, the contractors chose to use a Ditch Witch to drill a 16" diameter underground bore. The picture on the right shows two pieces of piping being "welded" together by using a 400°F metal plate heated both ends. Once the piping cooled, it was attached to the end of the Ditch Witch and pulled underground.
Value of a degree from Ole Miss:
My degree from Ole Miss has been invaluable for my career. With each class, my professors prepared me for the technical analysis and risk assessment of soil and groundwater contamination. My background in Geology and Engineering has provided endless possibilities for my future; and for that, I am grateful for my time at Ole Miss!
Related Links:
www.mdeq.ms.gov/
www.mdeq.ms.gov/water/groundwater-assessment-and-remediation/underground-storage-tanks/
---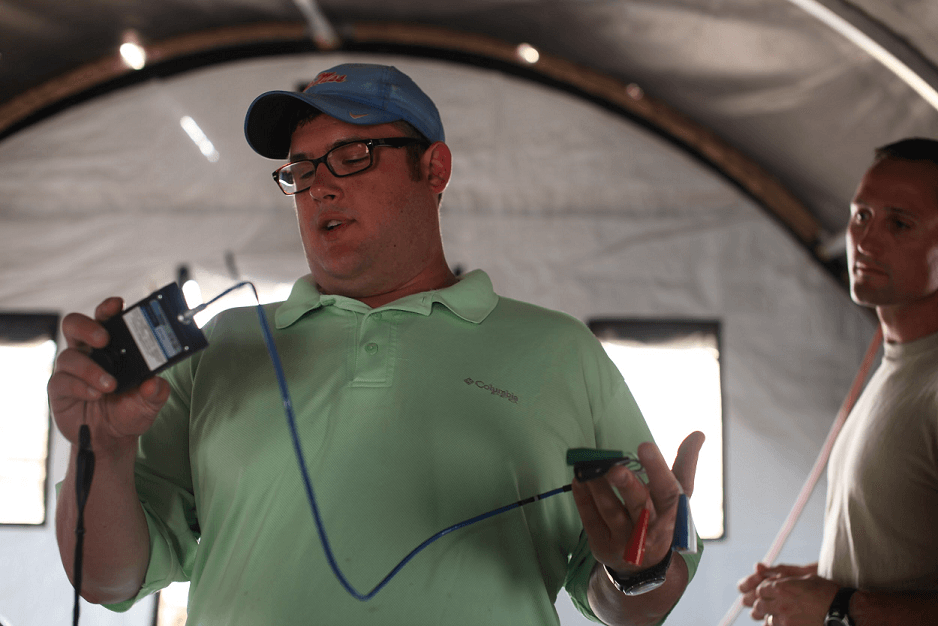 Biosketch:
2006 – B.S. Geological Engineering; 2008 – M.S. Geological Engineering (hydro)
US Army Corps of Engineers (2008 – present)
Cool stuff I get to do:
Since starting with the US Army Corps of Engineers, Nashville District in 2008, I have had the privilege of working on some of the nation's most critical infrastructure. In my career with USACE I have had the opportunity to work on deep foundation dam remediations, design stream bank protection, design/build automated dam safety monitoring systems, and participate in risk assessments across the country.
The most fun I have had in my career is designing and installing automated monitoring systems at some of the biggest Dam Safety Remediation Projects in the world. This work has enabled me to bridge my love of all things tech and gadgets with my Geological Engineering background. Being able to design systems for projects such as Wolf Creek Dam in Kentucky, East Branch Dam in Pennsylvania, and most recently the Mosul Dam Project in Northern Iraq, has allowed me to work and learn alongside some of the industry's best.
Value of a degree from Ole Miss:
The value of my degrees from Ole Miss is not just in the academic preparation to enter the workforce able to hit the ground running, but also the ability to foster meaningful professional relationships.
---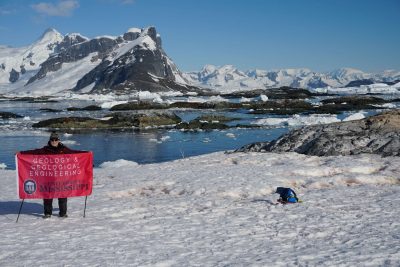 Biosketch:
First Degree (Millsaps College): Bachelor of Science in Geology – 1968
Second Degree (Ole Miss): Master of Science in Geology 1970
Third Degree (Case Western Reserve University): Ph.D. in Geology – 1974
First Job: Research Geologist, Atlantic Richfield Corporation (ARCO), Dallas, TX
Current Job: President, RockFluid Systems, Inc., McKinney, TX
Cool stuff I get to do:
Being a geologist has not only provided me with a good living, it opened the world to me. I have visited all seven continents, most recently having completed a "bucket list" trip to Antarctica. I have worked in countries I would never have even visited were I not a geologist (e.g. Saudi Arabia, Oman, Yemen, Iran). Best of all, I looked forward to going to work every day! Someone once said, "Do what you love, and you will never have to work." For me that was geology.
I love being outside, studying rocks in the field and trying to imagine how they were deposited. I've studied ancient glacial deposits in Oman, deep-sea turbidites in the Aleutians, volcanic rocks in Newfoundland, modern and ancient desert deposits in Saudi Arabia.
I also love looking at rocks under the microscope- whether it be an optical petrographic microscope or a scanning electron microscope. The details of rocks can tell us their history- their origin, the pressures and temperatures they have experienced, and their potential to produce oil and gas.
Value of a degree from Ole Miss:
I attended Ole Miss in the early 1970s, a time when plate tectonics was still hotly debated. A young professor in the department, Dr. Velon Minshew, managed to get Dr. J. Tuzo Wilson, a famous advocate of plate tectonics, to visit the department at Ole Miss. Dr. Wilson was in great demand for speaking engagements at the time, so this was a big deal for us students and the department! His presentations inspired us! He even hung out with us students and had a few beers!
Dr. Minshew's Ph.D. was from Ohio State's Polar Research Institute. His field area was Antarctica. He brought such enthusiasm and excitement to the classroom! He further encouraged my love for petrography by using his collection of Antarctic samples in our petrography classe. The volcanic and sedimentary rocks from such an exotic location fascinated me.
Dr. Bill Reynolds was also new to the department. A clay mineralogist interested in the origin of the enigmatic Tallahatta Formation of Mississippi and Alabama, he ultimately became my thesis advisor. He and Dr. Minshew spent time with me in the field, helping me to understand field relations and asking me probing questions. There is no question that the time they spent with me was instrumental in my desire to continue my geological education and pursue a Ph.D. Everything that followed would not have been possible except for them and my time at Ole Miss.
---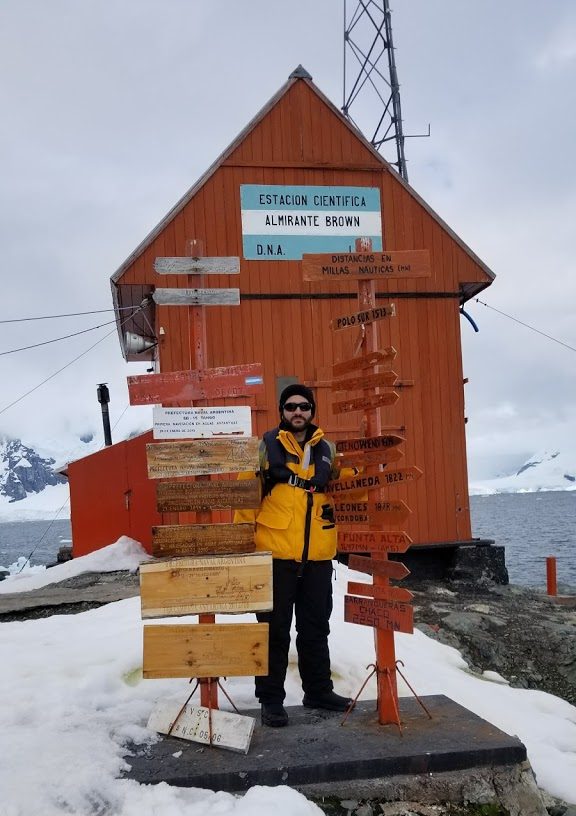 Biosketch:
First Degree (Ole Miss): Bachelor of Science in Geological Engineering – May 2005
Second Degree (Ole Miss): Master of Science in Engineering Science – Geological Engineering – May 2008
First Job: 2006 – Client Representative / GIS Specialist / Marine Geoscientist – AOA Geophysics – India
Current Job: Senior Vice President – MAG Aerospace – Huntsville, AL
Cool stuff I get to do:
While my career has slowly changed from being focused solely on oil and gas exploration to now focusing on defense, aviation and aerospace, the best part has been the continued travel and ability to see and experience the world. I have traveled to nearly 50 countries, 6 continents and visited 6 of the Seven Wonders of the World, with the intent to visit my last continent, Australia, and the Great Wall of China, my last of the Seven Wonders of the World, this summer. Each place and each program/project has been unique, whether it was working on a 300′ ship in the middle of the Bay of Bengal mapping the ocean floor or using commercial satellite and airborne hyperspectral data to support counter-narcoterrorism efforts in Latin America. Experiencing the development and implementation of cutting edge technology like UAS platforms and the sensors they use to provide security for US Forces or simply to provide low-cost alternatives to environmental mapping, the possibilities are endless for applicability from a background in Geology and Geological Engineering.
The ability to continue the drive to learn new things from difficult systems engineering projects is paramount to the success in many of these fields. Always learning from people who specialize in one thing will allow you to better yourself and identify the best career progression, whether it is into management or to continue to refine and become a subject matter expert in a particular area of interest. The people that I have met in the past and the people that I work with on a day-to-day basis really are one of the most enjoyable parts of my job because of our common goals and a truly team-focused approach.
Value of a degree from Ole Miss:
The experiences that I gained from being in the Geological Engineering program at Ole Miss, were paramount to my success. I gained knowledge in a broad background of topics while in the program, which eventually allowed me to focus on GIS and Remote Sensing. That catapulted me into the oil and gas exploration world and then continued on to working on data analytics for the US Government in ways never imagined.
Related Links:
---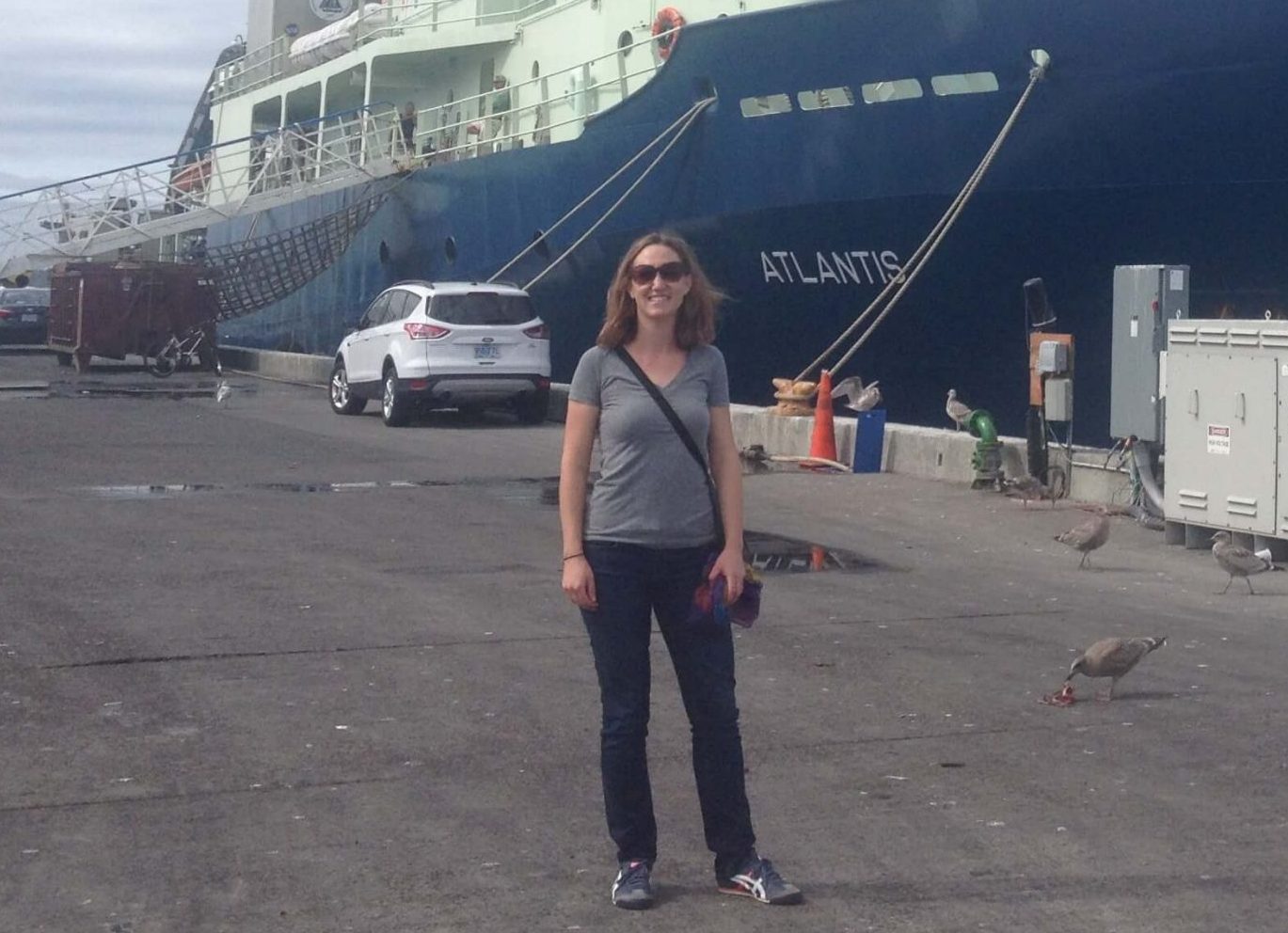 Biosketch:
First Degree (Ole Miss): BS in Geological Engineering – December 2001
Second Degree (University of Rhode Island): MS in Ocean Engineering – August 2004
First Job: 2004 – Marine Technician – Integrated Ocean Drilling Program, onboard the R/V JOIDES Resolution – Atlantic and Pacific Oceans
Current Job: Director of the International Hydrographic Organization Data Centre for Digital Bathymetry – National Oceanic and Atmospheric Administration (NOAA) – Boulder, CO
Cool stuff I get to do:
After falling in love with marine geology in my senior year at Ole Miss and finishing a master's degree at the University of Rhode Island, I spent the rest of my 20's hopping from boat to boat drilling and mapping the seafloor around the mid-Atlantic Ridge, India, Indonesia, Kenya and a handful of other random locations. Other than the occasional bouts of sea sickness and the nasty malaria medication I often had to take, it was a blast. On every survey I realized more and more how little we know about our seafloor, and therefore our planet.
When I hit the big 3-0, I thought it was time to settle down on dry land and found myself as far away from the ocean as one could get: Colorado. Working for the National Oceanic and Atmospheric Administration gave me the best of both worlds: it allowed be to keep my hands wet with occasional surveying opportunities (eg: Arctic Ocean), but allowed me to start focusing on the actual data, and how we could best make it available to the public.
Ten years later, as the Director of the International Hydrographic Organization (IHO) Data Centre for Digital Bathymetry (which we host at NOAA), I am actively involved with improving data sharing practices in a variety of national and international seafloor mapping projects. Every day I find myself working with governments (our own and others), researchers, academia, and everyday mariners; sharing with them the best way to turn their data into something that benefits mankind. My focus now is Seabed 2030, a global initiative to cooperatively create a high resolution complete map of the world's ocean floor by 2030. This is no small endeavor when you consider less than 15% of our seafloor has actually been directly mapped. It's a challenge I'm excited to help take on over the next decade.
Value of a degree from Ole Miss:
I can honestly say my 4.5 years at Ole Miss laid a solid groundwork enabling future success in my career. It provided the foundational knowledge necessary for graduate school and through the support of caring and invested professors, opened numerous doors (internships, graduate school, connections) and provided the confidence I needed to take my next steps.
Related Links: